I hope everyone had a wonderful Valentine's Day! I feel like I've been celebrating this day for days. *laughs* We had our official family party on Thursday, the adults only Suits & Lingerie party on Friday, Saturday I took a Galentine's Day photo with my sis and my nieces, then also made it into Birdy's Valentine photo, too. Then Sunday was the actual day and I ended it with the family dancing to our family songs. [We have lots of songs!!]
Well, that's not quite how I ended the day. I really ended it watching my 4 kids floating with balloons in the house.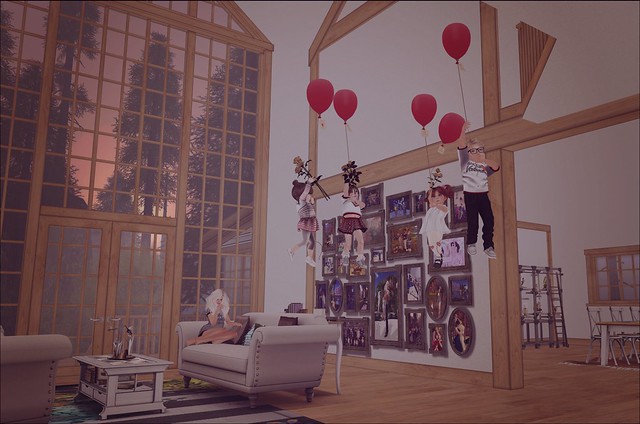 Freakin' cuties. 🙂
I've always liked Valentine's Day because of all the pink and hearts and love stuff. And chocolates. It never quite mattered to me if I was single or not. But I've never really celebrated like I have this year! Even in my offline life, it was a big deal and THAT was kind of strange. *laughs* But it's been good. Really really good.
But now that the celebrating is over, I need to get back to business as usual. I am behind a bit on blogging for the style blog. Not a lot behind or anything, but I just need to catch up on a couple of things. I also made a pose for our family picture that we took on Thursday, and I meant to put it on marketplace that evening but it never happened. Have I mentioned that I'm selling the random couples poses I make? Well, only 2 so far, but people are buying. Probably because they're flippin' cheap! *laughs* They're not GREAT poses or anything so I'd feel bad selling them for too much. Especially since they are custom to Aldwyn and me and I figure they probably won't fit anyone else except us anyway.
I'm exhausted from all this Valentine celebrating, so it's definitely bedtime.